ESA Restaurant
ESA Restaurant located on the first floor of ESA Bay View Hotel, with some indoor floor tables and wide open-air floor space viewing the lagoon. Open 7 am to 2 pm and 6 pm to 8 pm, seven days a week.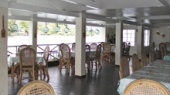 Orders can be delivered to the hotel rooms. Also banquet for groups and early breakfast for divers can be arranged upon request in advance.

Some Popular Dishes
Asian Breakfast
Fried or roasted fish fillet and eggs in your favorite style come with shredded fresh veggies and steamed rice.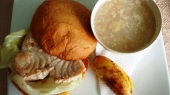 Fish Berger
Fried fish filet in buns comes with soup and fresh fruit of the day.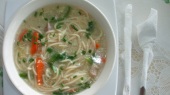 Fish Lomi
ESA uses spaghetti to substitute Pilipino lomi noodles making more solid taste. Veggies, eggs and a tint of garlic are blended into a special soup. Customers can select their favorite toppings from fish, chicken, pork or beef.

Fried Noodles
It's stir-fried instant noodles! Boiled noodles are fried with sliced ham and a lot of vegetables, seasoned with soy sauce and topped with egg and pickles for decoration.

Breakfast Side Orders
For small breakfast, you can select from side order menu, such as pieces of roasted fish fillet, eggs in your favorite style, slices of toasted bread or a scoop of steamed rice.

Location
Nature's Way

ESA Bay View Hotel
Contact
Phone: (691)350-2035
Other Hotels & Restaurants
Tours Activities
>>
Scuba Diving
>> Snorkeling
>> Culture Tour
>> Walking
>> Kayaking
>> Fishing
Rate and Reservation Policy
All Nature's Way tours are based on advanced reservations. Unless special circumstances, please make a reservation by 4:00 p.m. 2 days prior to the tour date.
- A tour booked within 21 days up to 2 days prior to the tour date will be regular tour rate.
- A tour booked and confirmed with a deposit before 22 days prior to the tour date will receive early bird discount.
Reservation & Inquiry
>> Contact