Located north side of Colonia Lagoon, Lagoonia Apartment offers only two rent spaces built partially on the quiet lagoon water.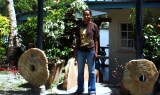 Each room is equipped with a queen sized bed, full kitchenette with refrigerator, electric heater, microwave, pots, pans, dishes, etc., hot shower & toilet, air-conditioning and private veranda on the water, suitable for a budgeted traveler or a couple.

While no daily room cleaning and bed-making, enough number of bed sheets and towels according to your stay will be provided upon checking-in instead. Trash collection and use of broom are also available upon request.

The rooms are well-ventilated with natural breeze when windows or glass doors to veranda are open. FSMTC Wi-Fi is accessible with its prepaid Telcard.

Inquiry Form for Tour & Hotel Package
The form below may help for any inquires or reservation request. Please note that this form will not work if your PC, smart phone or cell phone does not have an email set up. In that case, please copy & paste
info@naturesway.fm
and contact us. You may leave items blank other than the ones marked with **. However, the detailed information of yours will help us better support your needs. Usually we will respond within 72 hours.
Location
Nature's Way

Lagoonia Apartment
Contact
Phone: (691)350-5515

Other Hotels & Restaurants
Tours Activities
>>
Scuba Diving
>> Snorkeling
>> Culture Tour
>> Walking
>> Kayaking
>> Fishing
Rate and Reservation Policy
All Nature's Way tours are based on advanced reservations. Unless special circumstances, please make a reservation by 4:00 p.m. 2 days prior to the tour date.
- A tour booked within 21 days up to 2 days prior to the tour date will be regular tour rate.
- A tour booked and confirmed with a deposit before 22 days prior to the tour date will receive early bird discount.
Reservation & Inquiry
>> Contact