Mnuw Manta Ray Restaurant
Shipboard restaurant at Manta Ray Bay Hotel opens from 6:30 am through 9 pm. There are indoor dining on the lower and main decks or you may choose an open-air table on main and upper decks.

One of the specialties of this restaurant is Yap's only homemade draft beer produced in the brewery inside the hotel! There are three kinds of tastes of your choice.

Some Popular Dishes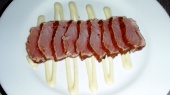 Blackened Sashimi
Fresh fish fillet surface is lightly roasted and seasoned with black pepper based spices and sauce. This is one of the original recipes of this restaurant.

Medium Sized Margarita Pizza Thick Crust with Extra Cheese & Onions
Pizza with beer! You can add in several toppings on your choice of basic pizza. There are 3 sizes and thin or thick crust for customers' choice. Give around 30 minutes for your pizza to be done.

Location
Nature's Way

Mnuw Manta Ray Restaurant
Contact
Phone: (691)350-2300
Other Hotels & Restaurants
Tours Activities
>>
Scuba Diving
>> Snorkeling
>> Culture Tour
>> Walking
>> Kayaking
>> Fishing
Rate and Reservation Policy
All Nature's Way tours are based on advanced reservations. Unless special circumstances, please make a reservation by 4:00 p.m. 2 days prior to the tour date.
- A tour booked within 21 days up to 2 days prior to the tour date will be regular tour rate.
- A tour booked and confirmed with a deposit before 22 days prior to the tour date will receive early bird discount.
Reservation & Inquiry
>> Contact