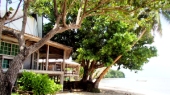 Village View Hotel stands right beside a beautiful sandy beach, a 40-minute drive from the airport and 30 minutes from Colonia. It may be a good idea to spend a couple of nights in a quiet village if you are looking for relaxed time on the beach doing nothing or beach play with small children.

In addition, the hotel is known to be an ideal location for amateur radio (ham radio) operators with wide range toward the north and the east. You can set your antenna on a coconut tree beside your room or even in shallow water near the beach.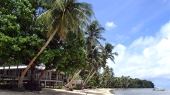 Each cottage consists of two guest rooms with wide veranda toward the beach. Every room is equipped with air-conditioning, mini-refrigerator, hot shower and toilet. Room types are single and twin (two single beds). Triple specification is also possible with an extra mattress.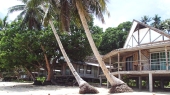 The restaurant in the premises opens only upon advanced meal requests. There are two small stores within walking distances which sell mostly canned food, beverages and snacks. Therefore, please make your meal plans and do necessary shopping in Colonia and/or make meal arrangement with the hotel prior to your checking-in.

The Internet access is available via FSMTC Wi-Fi service with prepaid card. Please purchase FSMTC Telcard beforehand since there is no place you can purchase nearby. Cell phone access with FSMTC GSM SIM card is good while land line telephone is available in the hotel office.
If you are an avid diver or snorkeler, staying at Village View Hotel may give you some disadvantages. In Yap, tidal movement affects greatly to the water visibility and current. If departure in early morning is necessary to catch a good tide timing, a 30 min to Colonia by car or picking you up by boat from the hotel beach may jeopardize the plan. You can consider staying some days in Colonia and some in Village View depending on the schedule. Please feel free to ask us for better planning.

Lastly because the hotel location is in the middle of Wachoelaeb Village, please follow the village rules whenever and wherever you present yourself in public, even in the hotel premises; by not making loud noise, following proper dress codes and respecting people's privacy.
Inquiry Form for Tour & Hotel Package
The form below may help for any inquires or reservation request. Please note that this form will not work if your PC, smart phone or cell phone does not have an email set up. In that case, please copy & paste
info@naturesway.fm
and contact us. You may leave items blank other than the ones marked with **. However, the detailed information of yours will help us better support your needs. Usually we will respond within 72 hours.
Location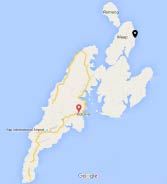 Nature's Way

Village View Hotel
Contact
Phone: (691)350-4679

Other Hotels & Restaurants
Tours Activities
>>
Scuba Diving
>> Snorkeling
>> Culture Tour
>> Walking
>> Kayaking
>> Fishing
Rate and Reservation Policy
All Nature's Way tours are based on advanced reservations. Unless special circumstances, please make a reservation by 4:00 p.m. 2 days prior to the tour date.
- A tour booked within 21 days up to 2 days prior to the tour date will be regular tour rate.
- A tour booked and confirmed with a deposit before 22 days prior to the tour date will receive early bird discount.
Reservation & Inquiry
>> Contact